Sarasota is located on the west coast of Florida directly on the Gulf of Mexico about an hours drive south of Tampa. Sarasota is often called the "Crown Jewel" of Florida's southwest Gulf Coast. 
Known by many as "Florida's Cultural Capital" Sarasota is home to the Ringling College of Art and Design, John and Mabel Ringling Museum of Art, Van Wezel Performing Arts Hall, Sarasota Opera, Sarasota Orchestra, Ballet, the #1 beach in America Siesta Key, and much more. Access to Sarasota is very easy from I-75 with 4 major exits that take you to all locations from the University Parkway exit #213, Fruitville Road exit #210, Bee Ridge Road exit #207 and the Clark Road exit #205.
Distance from other Florida cities
Miami: 223 miles
Orlando: 129 miles
Naples: 177 miles
Tampa: 57 miles
Population, Size and Demographics:
The 2015 population of Sarasota County as estimated by the U.S. Census Bureau is just over 405,000 permanent residents. During the winter months our population grows to over 480,000.  With a land mass of a total area of 725 square miles of which 556 square miles is land and 169 square miles (23.4%) is water.  Sarasota County spans from the northern tip of the island of Longboat Key and includes the islands of Lido Key, Bird Key, Siesta Key, Casey Key, down thru Venice, Engelwood and North Port and includes Manasota Key.
Sarasota is made up of families and retirees with the latest statistics giving Sarasota a median age of 52.5 and a median family income of $57,229 with the exception of Longboat Key, which has a median household income of $102,600.
(Source: Sarasota County Demographic Data and Links )
How's the Weather?
Mostly likely the #1 reason people relocate to Sarasota is our weather.
Sarasota enjoys tropical warm weather and year round sunshine making the weather one of the biggest reasons you will want to live here. Even during the hotter summer months we enjoy refreshing ocean breezes off the Gulf of Mexico along with cooling afternoon summer showers. 
Average Annual Temperature..........72 degrees
Average Annual Rain Fall.................54 inches
Coastline..........................................35 miles
Weather Update: NO Snow guaranteed!

                                                                       Choices

It is my pleasure to guide you through the world of real estate in Sarasota, Florida. Gorgeous beaches, fun shopping, an array of luxury  homes, pleasurable boating, numerous golf courses, and an unmatched cultural and arts epicenter have made Sarasota one of the most adored communities in Florida. In 2007, Money Magazine named Sarasota as one of the ten best cities to retire young and was previously rated by the magazine as one of the best small cities in America. In 2011 Siesta Key beach was ranked as the best beach in the country by Dr. Beach. Sarasota FL real estate caters to a diverse and sophisticated crowd but still maintains its undeniable charm. Come visit paradise.
Welcome to Sarasota, Florida!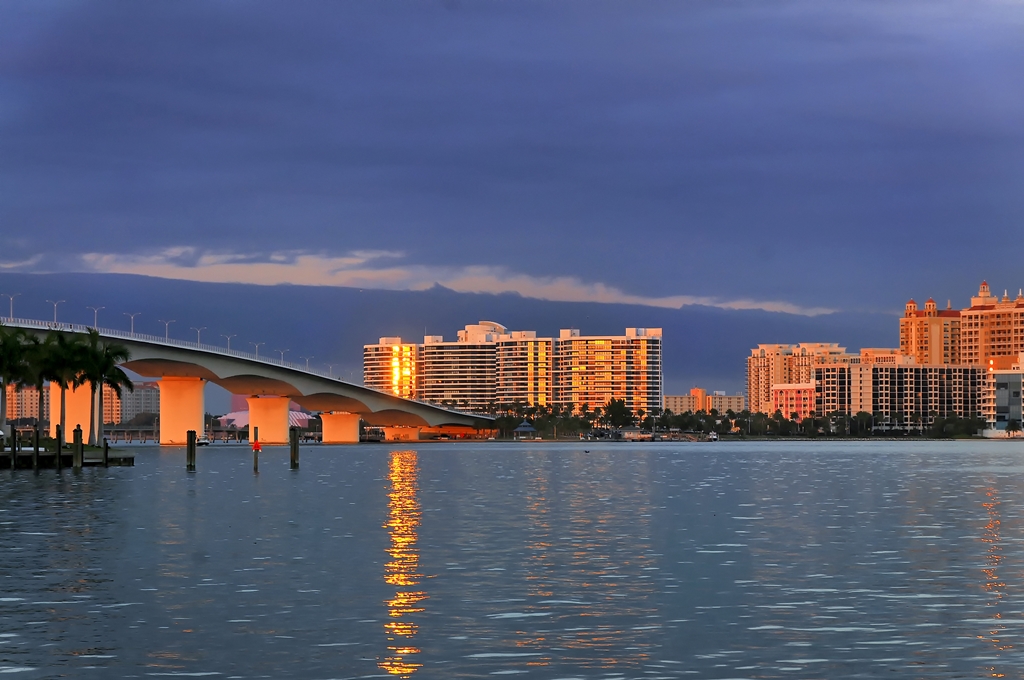 Sarasota is blessed with a diversity of property and lifestyles. There are a myriad of fabulous places to find a beach home or condo. Live in a place where you can walk out on the balcony and relax with the sounds of the ocean and gentle breezes of the Gulf of Mexico. Whether you seek a fabulous bayfront or cozy canalfront home, rest easy that there are plenty of Sarasota Waterfront Homes and condos available to satisfy most tastes and budget. If golf is your passion there are plenty of outstanding courses to spend the day with friends and family. With all of these wonderful courses home buyers have a myriad of Sarasota Golf Communities to explore.